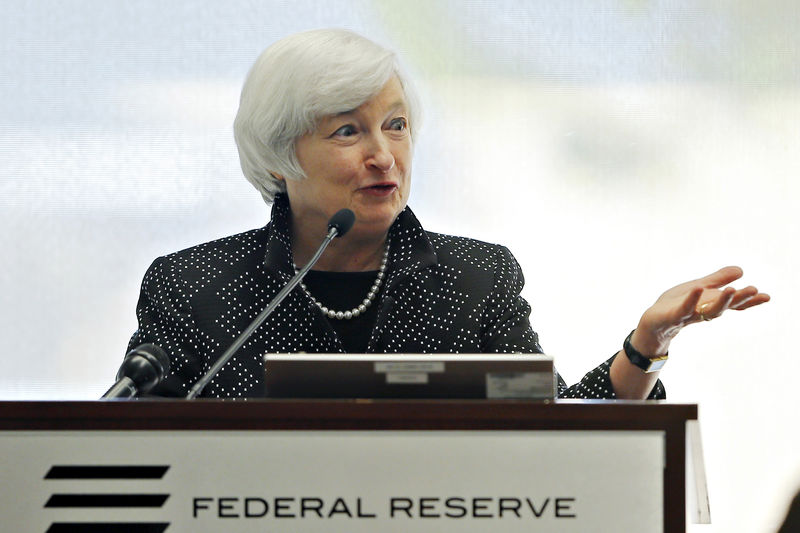 © Reuters. Top 5 things to watch this week in financial markets
Investing.com – Fresh comments from Federal Reserve Chair Janet Yellen will top the agenda for global financial markets in the week ahead, as they look for further hints on the timing of the next rate hike.
Investors will also keep an eye on U.S. housing data to assess what the impact of Category 4 hurricanes hitting the southern U.S. last month was on economic activity.
Elsewhere, China is to release what will be closely watched third-quarter growth data amid recent signs that momentum in the world's second largest economy remains strong.
In the U.K., traders will focus on consumer price inflation data to gauge how it will impact the Bank of England's view on monetary policy in the coming months.
Meanwhile, market players will focus on remarks from European Central Bank President Mario Draghi for fresh clues on when the central bank will shift away from its ultra-easy policy.
Ahead of the coming week, Investing.com has compiled a list of the five biggest events on the economic calendar that are most likely to affect the markets.
1. Fed Chair Yellen Speaks
Federal Reserve Chair Janet Yellen will join other leading central bankers to deliver remarks on the economy and monetary policy at the 32nd Annual G30 International Banking Seminar in Washington at around 9:00AM ET (1300GMT) on Sunday. A conversation that should keep investors talking Monday.
She will also deliver a speech titled "Monetary Policy Since the Financial Crisis" at the Herbert Stein Memorial Lecture in Washington on Friday at 7:30PM ET (2330GMT).
Her comments will be monitored closely for any new insight on policy. Yellen has previously said that the Fed still intended to raise rates in December, despite the sluggish inflation outlook.
Besides Yellen, this week will also see comments from a handful of Fed speakers including influential New York Fed President William Dudley. Comments from Philadelphia Fed chief Patrick Harker, Dallas Fed President Robert Kaplan, Kansas City Fed's Esther George and Cleveland Fed President Loretta Mester will also be on the agenda.
Interest rate futures are pricing in around an 80% chance of a December Fed rate hike according to Investing.com's Fed Rate Monitor Tool. The U.S. central bank has already raised rates twice this year.
2. U.S. Housing Data
The Commerce Department is to publish a report on building permits and housing starts for September at 8:30AM ET (1230GMT) on Wednesday.
The data is expected to show that permits fell 2.9% to 1.245 million last month, while housing starts are forecast to show a decline of 0.5% to 1.174 million, as hurricanes Harvey, Irma and Maria all took a toll on construction activity.
On Friday, the National Association of Realtors will release data on September existing home sales at 10AM ET (1400GMT), amid forecasts for a drop of 0.9% to 5.30 million, following a slump of 1.7% a month earlier.
Besides the housing-related data, this week's rather light calendar also features surveys on manufacturing conditions in the Philadelphia and New York regions as well as industrial production figures and weekly jobless claims.
In addition to the data, this also marks the first big week of the third-quarter earnings season, with tech giant Netflix (NASDAQ:NFLX) and blue-chips Johnson & Johnson (NYSE:JNJ), IBM (NYSE:IBM), Goldman Sachs (NYSE:GS) and UnitedHealth (NYSE:UNH) among some of the names reporting results.
Investors are also likely to continue to monitor the latest headlines coming out of Washington in regard to tax and healthcare reform.
3. China Q3 GDP
China is scheduled to release data on third-quarter gross domestic product at around 0200GMT on Thursday (10:00PM ET Wednesday).
The report is expected to show the world's second largest economy grew 6.8% in the three months ended September 30, easing slightly from the previous quarter's pace of 6.9%.
The Asian nation will also publish data on September industrial production, fixed asset investment and retail sales along with the GDP report.
Prior to Thursday's big releases, data on producer and consumer price inflation will be released on Monday.
China's Communist Party Congress commencing on Wednesday will also grab some attention. This political meeting, which takes place once every five years, has a mandate of approving new policies as well as appointing to certain positions those individuals who will lead the Asian nation over the next five years.
4. UK Inflation Figures
The UK Office for National Statistics will release data on consumer price inflation for September at 0830GMT (4:30AM ET) on Tuesday.
Analysts expect annual CPI to reach a five-year high of 3.0% from 2.9% a month earlier, which would further support the case for an interest rate hike by the Bank of England.
BoE Governor Mark Carney is scheduled to testify before the Treasury Select Committee in London shortly after the release of the CPI data at around 1015GMT (6:15AM ET).
Besides the inflation report, traders will focus on monthly unemployment and retail sales data for further indications on the continued effect that the Brexit decision is having on the economy.
Recent data has painted a subdued picture of the economy just as the BoE prepares to raise interest rates for the first time in a decade. The UK central bank said in September that it was likely to raise borrowing costs in the months ahead if the economy and price pressures kept growing.
Politics is likely to be at the back of investors' minds, as they keep an ear out for any news regarding the Brexit negotiations.
5. ECB President Draghi Delivers Comments
European Central Bank President Mario Draghi is due to deliver opening remarks at the European Central Bank's conference in Frankfurt at 0810GMT (4:10AM ET) on Wednesday.
Investors will be eager to get further insight as to what decision to expect from the ECB with regards to asset purchases and forward guidance.
Draghi indicated last month that the ECB could start tapering its massive stimulus program as early as October. The central bank's next meeting is scheduled for Oct. 26.
In addition to Draghi, there is also a survey on German business morale for October from the ZEW institute due on Tuesday.
Stay up-to-date on all of this week's economic events by visiting: http://www.investing.com/economic-calendar/
sponsoredArticle = 'div-gpt-ad-1466339494851-0';