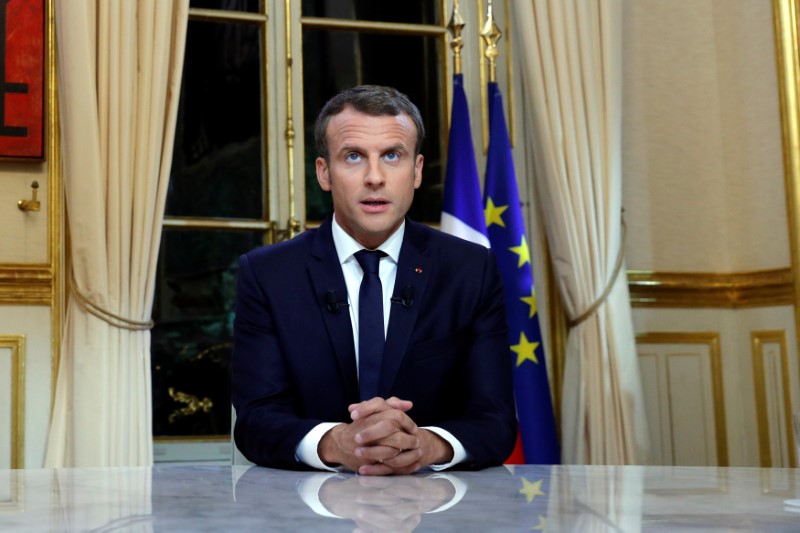 © Reuters. French President Emmanuel Macron is seen before his first long live television interview on prime time at the Elysee Palace in Paris
By Francesco Guarascio
BRUSSELS (Reuters) – France is on its way to tidy up its public finances, the European Commission president said on Monday, signaling confidence in the economic changes pursed by French President Emmanuel Macron before euro zone reform talks.
The informal green light strengthens Macron's stand in the negotiations for the reform of the currency bloc, which Paris and the EU commission want more integrated – a position that may not be so popular in Berlin when its new coalition government takes form after last month's election.
"France, with no doubts, will manage to bring its deficit level below 3 percent in 2017," Jean-Claude Juncker told reporters, praising labor market reform proposed by the French government in August.
EU fiscal rules require the 28 member states to keep their public deficits below 3 percent of gross domestic product. Those who are above the ceiling are put under disciplinary procedures that could lead to financial sanctions.
Speaking in a joint news conference with French Prime Minister Edouard Philippe in Brussels, Juncker said he was confident that France will exit the procedure next year, nearly a decade after it was launched to tackle the country's excessive deficit.
"I believe France… will exit this uncomfortable situation in 2018," Juncker said. Of the 28 EU countries, only France, Spain and Britain are under the procedure.
The informal endorsement, made before Paris submitted its budgetary plans for next year, removes one argument for skeptics of Macron's plans to reshape the 19-country euro zone and relaunch the EU project after Britain voted to leave.
Critics saw France's persistent non-compliance with EU fiscal rules as inconsistent with its intent to regain a leading role in EU reforms.
A first formal reaction by the commission on the French budget is expected before the end of November. Final decisions to end a disciplinary procedure are taken after countries are on a firm path towards respecting EU rules.
EU leaders meet this week in Brussels for a regular summit in which they will hold first discussions on completing the banking union, a project meant to increase financial stability after a decade-long economic crisis.
Talks to reshape the currency bloc will continue at a euro zone summit in December. Macron has floated the idea of a separate euro zone budget, financed from dedicated taxes and worth several hundred billion euros.
German Chancellor Angela Merkel has been more in favor of a "small" budget, while a German position paper for a finance ministers' meeting last week said it was not necessary at all.
sponsoredArticle = 'div-gpt-ad-1466339494851-0';