2/2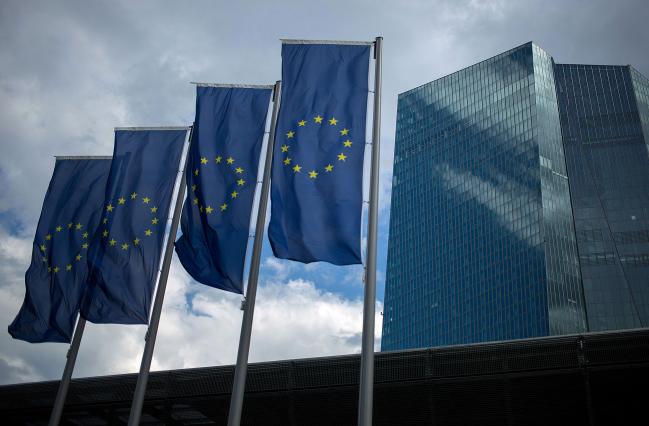 © Bloomberg. The stars of the European Union (EU) sit on banners flying outside the European Central Bank (ECB) headquarters stands in Frankfurt, Germany, on Thursday, July 20, 2017. Frankfurt has emerged as a winner of the Brexit vote, with Standard Chartered Plc, Nomura Holdings Inc., Sumitomo Mitsui Financial Group Inc. and Daiwa Securities Group Inc. picking the city as their EU hub in recent weeks.
2/2
(Bloomberg) — Some European Central Bank policy makers see room for little more than 200 billion euros ($235 billion) of purchases under the institution's bond-buying program next year, according to central-bank officials familiar with the matter.
The ECB is likely to run out of available debt under current rules at just over 2.5 trillion euros, the officials said, asking not to be named as the matter is private. With purchases set to reach 2.28 trillion euros by the end of 2017, talks are focused on how to spread the additional capacity, they said.
Such a limit is at the lower end of volumes under discussion, setting the Governing Council up for a potentially difficult policy meeting on Oct. 26 as some members fret about ending quantitative easing while inflation remains weak. The ECB currently buys 60 billion euros a month of debt, and Bloomberg reported on Friday that it's considering cutting that by at least half from January, extending it to September with a proviso to do more if needed.
The council hasn't officially discussed how to extend the program, and the Executive Board has yet to make its proposal. An ECB spokesman declined to comment.
The yield on benchmark 10-year German bunds rose one basis point to 0.41 percent as of 9:14 a.m. Frankfurt time. The euro was down 0.3 percent at $1.179.
While there are enough bonds in the market to allow the ECB to make purchases at 30 billion euros a month in 2018 without running into its self-imposed constraints, there is concern among some policy makers that investors may be reluctant to sell the assets. Reducing monthly buying to 25 billion euros — which would total 225 billion euros over nine months — may address some of those concerns, the officials said.
Missing Inflation
In addition to restrictions designed partly to avert legal concerns, the availability of bonds is affected by new issuance, the ECB's pledge to reinvest funds from maturing assets and the need for companies such as pension funds to hold safe debt.
At the same time, the euro area's robust economic upturn is failing to spark more inflation, puzzling policy makers and prompting concerns that quantitative easing may end too early. The Governing Council is deeply divided on whether to set an end date.
President Mario Draghi said in Washington on Saturday that the bank needs to be patient because price gains will take time to pick up. Inflation was 1.5 percent in September, below the goal of just under 2 percent.
Next Year
While some policy makers favor a commitment to phase out asset purchases for good, arguing that the stock of holdings on the books is the primary source of stimulus, others others say the monthly flow must be kept going until euro-area inflation is clearly entrenched.
Bundesbank President Jens Weidmann told reporters in Washington on Friday that he doesn't see the need to further expand monetary stimulus, particularly because "policy will remain extraordinarily accommodative even after the end of net asset purchases."
French central-bank head Francois Villeroy de Galhau said on Sunday that "no one should be worrying" about the pending slowdown in bond purchases. Italy's Ignazio Visco said at a conference on Saturday that he would prefer not to have specific dates and periods when it comes to unwinding QE as the ECB needs "the flexibility that is in the program."
(Updates with bonds, euro in fifth paragraph.)
sponsoredArticle = 'div-gpt-ad-1466339494851-0';